TOGAF® Intensive Program (BA Level 1)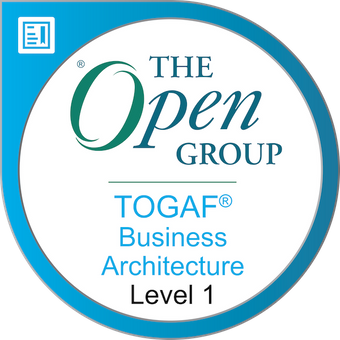 The purpose of the TOGAF Intensive Program Business Architecture Level 1 certification credential is to provide validation that individuals have knowledge and understanding of Business Modeling, Business Capabilities, TOGAF Business Scenarios, Information Mapping, and Value Streams and how to apply them in development of a Business Architecture based on the TOGAF® Standard, Version 9.2.
The learning objectives for this certification credential focus on knowledge and comprehension. This credential leads to the award of an Open Badge.
Individuals who earn this credential will have demonstrated their understanding of:
The topic of Business Modeling and how it relates to Enterprise Architecture within a TOGAF context
The concept of Business Capabilities and how they can be modeled
Value Streams and value stream mapping
Information Mapping
How to apply the TOGAF Business Scenario method
How a Business Architecture can be developed with the TOGAF Architecture Development Method (ADM)
Certification is only achieved by passing the examination.
Our promise is simple – to deliver the guidance you need to ace the test.
Examination Name: TOGAF Business Architecture Part 1
Examination Type: Simple multiple-choice question format, 30 questions/45 minutes
Supervised: Yes
Open Book: No
Delivery Options: Two options are available for participants to take their tests:
1. Pearson VUE test centers.
2. At your home or in your office using Online Proctored delivery.
Individuals who require an understanding of Business Architecture based on the TOGAF Standard, Version 9.2
Professionals who are working in roles associated with developing a Business Architecture such as those responsible for business planning
Architects who want to add a specialization to their existing TOGAF Certification
Certified individuals will have demonstrated their understanding of:
The topic of Business Modeling and how it relates to Enterprise Architecture within a TOGAF context
The concept of Business Capabilities and how they can be modeled
Value Streams and value stream mapping
Information Mapping
How to apply the TOGAF Business Scenario method
How a Business Architecture can be developed with the TOGAF Architecture Development Method (ADM)
Certified individuals will have the following competencies:
An understanding of Business Architecture based on the TOGAF Standard, Version 9.2
The ability to apply techniques in development of a Business Architecture
Test voucher for the TOGAF Business Architecture Part 1 Test
Free resit if you don't pass
Copies of accredited training material
Practice tests
A qualified, competent and experienced instructor
let's tee-off
enterprise
architecture
with togaf
future proof
your enterprise
transformation
with EA
worried
about the test?
not so in our classrooms
goals, objectives
and kpis –
articulate them
with EA
Make your move with
'togaf confidence'
accredited by the open group