This training program is based on the togaf standard, 10th edition – the latest and most up-to-date edition released by the open group.
TOGAF® Intensive Program (EA foundation and EA Practitioner combined)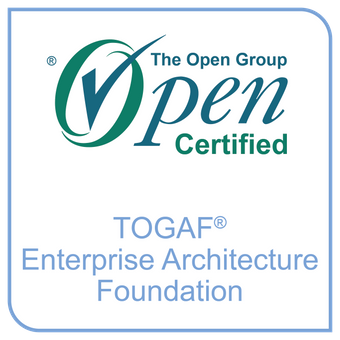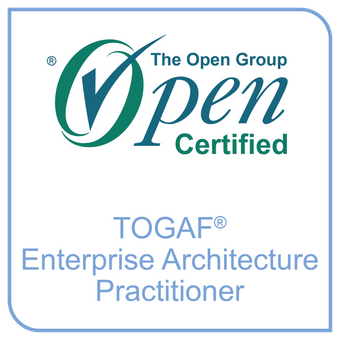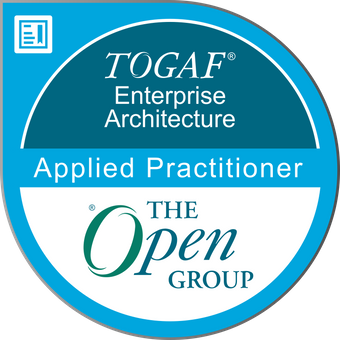 This combines the EA foundation and EA Practitioner courses together and is delivered across 5 days with exam included on day 5.
In addition, the curriculum also includes TOGAF Enterprise Architecture Practitioner Learning Studies which will lead to the TOGAF Applied Practitioner Badge.
The learning objectives at this level focus on knowledge and comprehension.
Includes the syllabus for Levels 1 and 2.
Certification is only achieved by passing the two examinations either taken separately or together as a
combined examination.
Examination Type:
Part 1: Multiple-choice examination, 40 questions/60 minutes.
Part 2: Complex multiple-choice scenario-based examination, 8 questions/90 minutes
Supervised: YES
Open Book: Part 1: No. Part 2: Yes.
Delivery Options: Two options are available for participants to take their tests:
1. Pearson VUE test centers.
2. At your home or in your office using Online Proctored delivery.
Individuals who want to grasp the concepts of TOGAF Levels 1 and 2 and appear for the combined certification test.
Individuals certified at this Level 1 will have demonstrated their understanding of:
The basic concepts of Enterprise Architecture and the TOGAF standard
The core concepts of the TOGAF 9 standard
The key terminology of the TOGAF 9 standard
The ADM cycle and the objectives of each phase, and how to adapt and scope the ADM
The concept of the Enterprise Continuum; its purpose and constituent parts
How each of the ADM phases contributes to the success of Enterprise Architecture
The ADM guidelines and techniques
How Architecture Governance contributes to the Architecture Development Cycle
The concepts of views and viewpoints and their role in communicating with stakeholders
The concept of building blocks
The key deliverables of the ADM cycle
The TOGAF reference models
The TOGAF certification program
Individuals certified at Level 2 will have demonstrated their understanding of:
How to apply the ADM phases in development of an Enterprise Architecture
How to apply Architecture Governance in development of an Enterprise Architecture
How to apply the TOGAF Architecture Content Framework
How to apply the concept of Building Blocks
How to apply the Stakeholder Management Technique
How to apply the TOGAF Content Metamodel
How to apply the TOGAF standard recommended techniques when developing an Enterprise Architecture
The TOGAF Technical Reference Model and how to customize it to meet an organization's needs
The Integrated Information Infrastructure Reference Model
The content of the key deliverables of the ADM cycle
How an Enterprise Architecture can be partitioned to meet the specific needs of an organization
The purpose of the Architecture Repository
How to apply iteration and different levels of architecture with the ADM
EA teams worldwide are using the TOGAF standard to deliver sustainable competitive advantage, create value, improve operations, and adapt new technology.
let's tee-ofF
enterprise
architecture
with togaf
future proof
your enterprise
transformation
with EA
worried
about the test?
not so in our classrooms
goals, objectives
and kpis –
articulate them
with EA
Make your move with
'togaf confidence'
accredited by the open group